---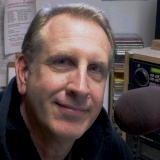 I was born & raised in Marysville, Washington (the other Marysville). I am the son of teacher parents so education was pretty important in my family. I graduated with a B.S. degree in Organizational & Mass Communications from Eastern Washington University (after a lengthy battle over a typing compentency test, which I eventually won). When I got to college I asked someone who had the best parties and they told me to try the Radio & Television Department. So I got a job on the campus station and it turns out the guy was right, I got hooked on radio and the rest is the proverbial history.
I'd like to know what you are up too. Send me an e-mail about your favorite things to do, fun websites you've found, funny stories or gossip you may have heard and things that you and your friends and co-workers are talking about (I can always use the material). Thanks for listening and thanks for stopping by my page. By the way if you have any thoughts about stuff you'd like to see here, send me an e-mail. - Manley
---
Manley's History lesson...
Tuesday June 28, 2016:
*Insurance Awareness day
*Paul Bunyon Day
*National Columnists' Day: 28
*International Body Piercing Day: 28
In 1820, scientists determined that the tomato was non-poisonous. Good luck convincing kids of that!
On this date in 1859, the very first dog show was held in England. Of course, during these early ones, they learned what we know today -- don't bring your pet cat and never wear anything that make you resemble a fire hydrant.
In 1894, the Labor Day holiday was approved by congress. Finally, they had a holiday at the end of the summer to go with all those sales.
THIS WEEK IS…

*Fish Are Friends, Not Food! Week: 26-7/2
*National Mosquito Control Awareness Week: 26-7/2
*National Prevention of Eye Injuries Awareness: 27 -7/4
---
---
Nearly Impossible Quiz:
Tuesday June 28, 2016
Q: This color car gets hit with bird poop more often than any other colored car. What color is it?
A: Red.
---

and other stuff I thought you'd like to know...
For June 28, 2016:
Other stuff
---
In Case You Missed It...
DID YOU KNOW?... some random facts about people
According to scientists, Daylight Savings Time, or turning the clock back, is is a waste of time and bad for your health.
A 17-foot 5-inch alligator was found in 1989 just outside Gainesville, FL, making it the largest on record.
When Disneyland opened on July 17, 1955 the temperature was 110 degrees, hot enough to melt the asphalt on Main Street and caused many high-heeled shoes to become stuck in the pavement.
Today's Lite Rock All Nite
7:00pm - 12:00am
Today's Lite Rock All Nite
Make A Request
TEXT CLUB CONTESTS, EVENTS