---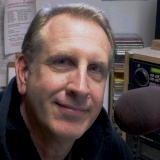 I was born & raised in Marysville, Washington (the other Marysville). I am the son of teacher parents so education was pretty important in my family. I graduated with a B.S. degree in Organizational & Mass Communications from Eastern Washington University (after a lengthy battle over a typing compentency test, which I eventually won). When I got to college I asked someone who had the best parties and they told me to try the Radio & Television Department. So I got a job on the campus station and it turns out the guy was right, I got hooked on radio and the rest is the proverbial history.
I'd like to know what you are up too. Send me an e-mail about your favorite things to do, fun websites you've found, funny stories or gossip you may have heard and things that you and your friends and co-workers are talking about (I can always use the material). Thanks for listening and thanks for stopping by my page. By the way if you have any thoughts about stuff you'd like to see here, send me an e-mail. - Manley
---
Manley's History lesson...
Tuesday August 30, 2016:
*International Cabernet Sauvignon Day: 30
*International Whale Shark Day: 30
*National Grief Awareness Day: 30
*National Holistic Pet Day: 30
*National Toasted Marshmallow Day: 30
*Frankenstein Day: 30
*Slinky Day: 30
On this date in 1780, Benedict Arnold became a traitor after declaring himself a free agent.
On this date in 1901, the vacuum cleaner was patented. Up until then, no one had any way to clean a vacuum.
THIS WEEK IS…

*World Water Week: 28-9/2
*Be Kind To Humankind Week: 25-31
---
Mike's Blog Du Jour
I'm pretty sure this is would be a world record if they kept records for losing keys! I was talking about this on today's show, how I managed to lose the keys to the Mix van in less than 3 seconds! It happened as I was taking the keys out the ignition and turning to step out of the van. I realized that before I even got out of the van I had lost the keys. This set off a frantic search of the van and my equipment bag before finally finding them in the bottom of my bag. This is exactly the kind of thing that drives me crazy about me, I can lose keys anywhere, any time, faster than anyone!
---
Nearly Impossible Quiz:
Tuesday August 30, 2016
Q: American's will eat 34 million of these today. What are they?
A: Loaves of bread.
---

and other stuff I thought you'd like to know...
For August 29, 2016:
Arnold Schwarzenegger is the new host of Celebrity Apprentice and the cast includes Laila Ali, Eric Dickerson, Boy George, Jon Lovitz, Vince Neil, Snooki and Carnie Wilson. The show debuts January 2.
Jennifer Lopez got up on stage and performed a song with her ex, Marc Anthony, in New York over the weekend.
Other stuff:
Portland, Oregon, has called for a ban on religious, talk and rap music being played on the radio in school buses.
---
In Case You Missed It...
DID YOU KNOW?... some random facts about people and stuff:
43% of women, in a recent survey, say they find it very attractive when a potential love interest knows how to iron clothes.
TEXT CLUB CONTESTS, EVENTS