---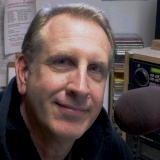 I was born & raised in Marysville, Washington (the other Marysville). I am the son of teacher parents so education was pretty important in my family. I graduated with a B.S. degree in Organizational & Mass Communications from Eastern Washington University (after a lengthy battle over a typing compentency test, which I eventually won). When I got to college I asked someone who had the best parties and they told me to try the Radio & Television Department. So I got a job on the campus station and it turns out the guy was right, I got hooked on radio and the rest is the proverbial history.
I'd like to know what you are up too. Send me an e-mail about your favorite things to do, fun websites you've found, funny stories or gossip you may have heard and things that you and your friends and co-workers are talking about (I can always use the material). Thanks for listening and thanks for stopping by my page. By the way if you have any thoughts about stuff you'd like to see here, send me an e-mail. - Manley
---
Manley's History lesson...
Tuesday February 9, 2016:
*Mardi Gras: 9
*National Stop Bullying Day: 9
*National Pizza Day: 9
*Read in the Bathtub Day: 9
*Safer Internet Day: 9
*Toothache Day: 9
*Extraterrestrial Culture Day: 9
*Extraterrestrial Visitor Day: 9
*International Pancake Day: 9
THIS WEEK IS…
*Burn Awareness Week: 7-12
*Children's Authors & Illustrators Week: 7-12
*International Coaching Week: 7-12
*Just Say No to PowerPoint Week: 7-12
*Solo Diners Eat Out Weekend: 7-12
*Celebration of Love Week: 7-13
*Children of Alcoholics Week: 7-13
*Congenital Heart Defect Awareness Week: 7-14
*Dump Your Significant Jerk Week: 7-13
*Have A Heart for A Chained Dog Week: 7-14
*Risk Awareness Week: 7-14
*International Week of Black Women in The Arts: 7-15
*Jell-O Week: 7-13
*Freelance Writers Appreciation Week: 7-13
*National Secondhand Wardrobe Week: 7-13
*Love Makes the World Go Round; But, Laughter Keeps Us From Getting Dizzy Week: 8-14
Celeb Birthdays:
Judith Light (Who's The Boss?), Actress Mia Farrow, Joe Pesci, Singer Carole King
---
Mike's Blog Du Jour
It's National Pizza Day and International Pancake Day also known as Fat Tuesday. So I celebrated with a low carb, low fat turkey and veggie wrap, so I can apparently live longer and have more time to not enjoy anything!
---
Nearly Impossible Quiz:
Tuesday February 9, 2016
Q: The average married couple will do this at least once this weekend. What is it?
A: Drive somewhere.
---

and other stuff I thought you'd like to know...
For February 9, 2016:
Deontay Anderson, a four-star safety from Manvel, Texas, jumped out of an airplane on National Signing Day last Wednesday to announce he would play football at Mississippi. Not sure his coaches would be too happy about this.
Other stuff:
---
In Case You Missed It...
DID YOU KNOW?
Some random facts about people