---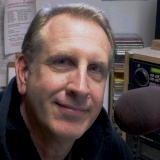 I was born & raised in Marysville, Washington (the other Marysville). I am the son of teacher parents so education was pretty important in my family. I graduated with a B.S. degree in Organizational & Mass Communications from Eastern Washington University (after a lengthy battle over a typing compentency test, which I eventually won). When I got to college I asked someone who had the best parties and they told me to try the Radio & Television Department. So I got a job on the campus station and it turns out the guy was right, I got hooked on radio and the rest is the proverbial history.
I'd like to know what you are up too. Send me an e-mail about your favorite things to do, fun websites you've found, funny stories or gossip you may have heard and things that you and your friends and co-workers are talking about (I can always use the material). Thanks for listening and thanks for stopping by my page. By the way if you have any thoughts about stuff you'd like to see here, send me an e-mail. - Manley
---
Manley's History lesson...
Thursday May 26, 2016:
*Eat More Fruits & Vegetables Day: 26 (Thursday of Memorial Day week)
*Red Nose Day: 26
*World Lindy Hop Day: 26
*National Sorry Day: 26
*National Paper Airplane Day: 26
On this date in 1805, Napoleon Bonaparte was crowned king of Italy. He was the first king to rule Italy from a booster throne. Yes, another short joke!
In 1927 that the 15 millionth Model T left the Ford assembly line, along with Harvey Glick. Harvey was a line worker, whose thumb unfortunately became stuck in one of the wheels.
On this date in 1946, a patent was filed in the U.S. for the hydrogen bomb. Seems strange, because if you're the type of person who would be stealing secrets about a hydrogen bomb, you probably wouldn't care much if there was a patent in effect.
THIS WEEK IS…

National Safe Boating Week: 21-27
Hurricane Preparedness Week: 22-28
Healthy and Safe Swimming Week: 23-29
National Backyard Games Week: 23-30

---
Mike's Blog Du Jour
National Paper Airplane Day! I made a paper airplane this morning for the first time since...last years paper airplane day! It actually flew about 2/3 the way down the hall at the studios. I admit I was pretty proud of myself that I even remembered how to make one. Of course I would be surprised if I remembered how to make one even if I had just made one five minutes ago! :)
---
Nearly Impossible Quiz:
Thursday May 26, 2016
Q: In a typical stretch of 100 miles of beach you'll find around 30,000 of these. What are they?
A: Cigarette butts.
---

and other stuff I thought you'd like to know...
For May 26, 2016:
They were supposed to have a hologram of Whitney Houston sing with Christina Aguilera on the finale of "The Voice" Monday night, but they had technical difficulties... and so, Ariana Grande filled in.
Other stuff:
The Houston Astros' George Springer hit a foul ball into a deep fryer at a funnel cake stand at Minute Maid Park on Tuesday. They probably served it to a fan for some outrageous price!
---
In Case You Missed It...
DID YOU KNOW?...
Even if you never post your political views on Facebook, avoid ever saying anything about your religious beliefs or even hint about your sexual orientation, that information is easily available based on the "like" buttons you click. Marketers, credit agencies, corporations, potential employers, politicians or the government can discern accurate details about your personality, politics, religion, gender, intelligence, race and sexual orientation by the lasting fingerprint you leave when you click "like" to indicate your approval of everything from a new restaurant to a favorite musician. That's the conclusion of a study conducted by researchers at the University of Cambridge in the England. The results: Based only on Facebook "likes," the Cambridge mathematical model predicted the following, reports HealthDay News:
More Music Weekend
12:00am - 10:00am
More Music Weekend
Make A Request
TEXT CLUB CONTESTS, EVENTS