---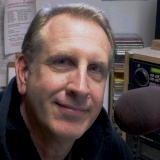 I was born & raised in Marysville, Washington (the other Marysville). I am the son of teacher parents so education was pretty important in my family. I graduated with a B.S. degree in Organizational & Mass Communications from Eastern Washington University (after a lengthy battle over a typing compentency test, which I eventually won). When I got to college I asked someone who had the best parties and they told me to try the Radio & Television Department. So I got a job on the campus station and it turns out the guy was right, I got hooked on radio and the rest is the proverbial history.
I'd like to know what you are up too. Send me an e-mail about your favorite things to do, fun websites you've found, funny stories or gossip you may have heard and things that you and your friends and co-workers are talking about (I can always use the material). Thanks for listening and thanks for stopping by my page. By the way if you have any thoughts about stuff you'd like to see here, send me an e-mail. - Manley
---
Manley's History lesson...
Thursday October 23, 2014
*IPod Day: 23
*National Mole Day: 23
*National Pharmacy Technician Day: 23
*Swallows Depart from San Juan Capistrano Day: 23
*TV Talk Show Host Day: 23 (Always on Johnny Carson's birthday)
This Week Is...
Food & Drug Interactions and Awareness Week: 17-24
Freedom From Bullies Week: 19-25 (3rd Full Week)
International Infection Prevention Week: 19-25
Mediation Week: 19-25 (Third Full Week)
National Character Counts Week: 19-25 (3rd Full Week)
National Chemistry Week: 19-25 (3rd Full Week)
National Collegiate Alcohol Awareness Week: 19-25
National Forest Products Week: 19-25 (Starts Third Sunday)
National Friends of Libraries Week: 19-25 (Third Full Week)
National Hospital and Health-System Pharmacy Week: 19-25
National Lead Poisoning Prevention Week: 19-25 (Always Third week)
National Massage Therapy Week: 19-25 (Last Full Week)
National Respiratory Care Week: 19-25 (last full week)
National Save For Retirement Week: 19-25 (3rd Full Week)
Red Ribbon Week: 19-25 (Last Week)
Ally Week: 20-24
Freedom of Speech Week: 20-26


---
Mike's Blog De Jour
We talked yesterday about the fact that some of these sports rivalries get a bit heated and the fans can get a little crazy at times. We have obviously seen some pretty bad examples of this between the Giants and Dodgers but I'm wondering... how can somebody be mad at the Kansas City Royals? The most controversial thing any Royal has ever done is when George Brett got thrown out for putting too much pine tar on his bat!
---
Nearly Impossible Quiz:
Thursday October 23, 2014
Q: 50% of dog owners say their dog loves to do this, what is it?
A: Watch TV.
---

and other stuff I thought you'd like to know...
October 23, 2014
Mama June from Here Comes Honey Boo Boo, is apparently dating a sex offender! What's worse (as if it could be) is that the victim, who was 8 at the time, is a close relative of Mama June's and June was dating him in 2004 at the time of his conviction! This show has not only hit the bottom of the barrel, it has just kept digging.
In western Siberia, a man was going through a junk pile looking for metal when a bear approached him. With nothing else to lose, the guy grabbed an old PC and hurled it at the bear, which left.

Frank Sivero says that "The Simpsons" ripped off the Frankie Carbone character he played in 1990's Goodfellas and he wants to be paid for it. He says the mobster Louie is modeled after him and that $250 million will make everything right.

Jennifer Lopez is being offered a long-term contract at the Axis, Planet Hollywood in Las Vegas... which would amount to $350,000 a show.

A new study has found that men who are vegan have a much lower sperm count compared to those that eat meat.

According to a new survey, almost 40 percent of new moms create social media accounts for their newborns.

The Florida mom wins. Toys R Us is pulling the Breaking Bad dolls from their stores.
---
In Case You Missed It...
Count Your Buttons Day -- Here are a few sayings that should be on buttons:
Make yourself at home! Clean my kitchen.

Who are these kids and why are they calling me mom?

Don't bother me. I'm living happily ever after.

I started out with nothing and still have most of it left.

I pretend to work. They pretend to pay me.

If I throw a stick, will you leave?

Therapy is expensive, poppin' bubble wrap is cheap! You choose.

If I want to hear the pitter patter of little feet, I'll put shoes on my cat.

Does your train of thought have a caboose?

Errors have been made. Others will be blamed.

I'm not crazy, I've just been in a very bad mood for 30 years.

Better living through denial.

Whatever kind of look you were going for, you missed.

How do I set an iPhone to stun?

I'm not tense, just terribly, terribly alert.
More Music Weekend
12:00am - 10:00am
More Music Weekend
Make A Request