---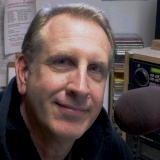 I was born & raised in Marysville, Washington (the other Marysville). I am the son of teacher parents so education was pretty important in my family. I graduated with a B.S. degree in Organizational & Mass Communications from Eastern Washington University (after a lengthy battle over a typing compentency test, which I eventually won). When I got to college I asked someone who had the best parties and they told me to try the Radio & Television Department. So I got a job on the campus station and it turns out the guy was right, I got hooked on radio and the rest is the proverbial history.
I'd like to know what you are up too. Send me an e-mail about your favorite things to do, fun websites you've found, funny stories or gossip you may have heard and things that you and your friends and co-workers are talking about (I can always use the material). Thanks for listening and thanks for stopping by my page. By the way if you have any thoughts about stuff you'd like to see here, send me an e-mail. - Manley
---
Manley's History lesson...
Tuesday December 1, 2015:
*Antarctica Day: 1
*Basketball Day: 1
*Civil Air Patrol Day: 1
*Day With(out) Art Day: 1
*Rosa Parks Day: 1
*World Aids Day: 1
*Giving Tuesday: 1
On this date in 1913, the very first drive-in gas station opened. I guess before then, you had to what, order it through the mail?
In 1939, Rudolph, the red-nosed reindeer made his first appearance in a Montgomery Ward catalog. They weren't the best pictures and all of the other reindeer laughed and called him names.
THIS WEEK IS…

National Deal Week: 25-12/2
Cookie Cutter Week: 1-7
---
Mike's Blog Du Jour
I was talking about how owning a dog can help reduce anxiety in kids. I guess that just works for kids because I have been dog sitting for some friends and I find that it is causing me some stress. It's mostly because when I leave them inside, because it's so cold out, I keep worrying about whether or not they will poop in the house.
---
Nearly Impossible Quiz:
Tuesday December 1, 2015
Q: A new survey says that doing this with your coworkers will boost office morale. What is it?
A: Swearing.
---

and other stuff I thought you'd like to know...
Tuesday December 1, 2015:
New couple alert. Gigi Hadid and Zayn Malik are officially an item. She's a model and he, of course, formerly of One Direction.

Lindsey Vonn says she and Tiger Woods had an amazing three years and that she still loves him... but it just didn't work out with their schedules.

Speaking of pregnancy, you knew Anne Hathaway is expecting, right?

Troubled Irish singer Sinead (shin-ADE) O'Connor posted a troubling note on Facebook over the Thanksgiving weekend... which included the phrase, "I've taken an overdose."

Courtney Cox and Johnny McDaid have split, after a year and a half engagement.

Will Smith describing his marriage to Jada Pinkett Smith as "grueling" in an interview isn't going to slow down those rumors of an impending divorce.

Kelly Clarkson says she spent Thanksgiving meditating with her daughter, River.

A report says that 39% of the shopping on Black Friday was done with mobile phones.
---
In Case You Missed It...
USELESS THANKSGIVING TRIVIA
When the Pilgrims were sailing to America in 1620, what game did they play? (Darts)

Ben Franklin tried to get the turkey, named the national bird.

Neil Armstrong's first meal on the moon was turkey.

A turkey has about 3,500 feathers.

What was one of the main reasons that the Pilgrims stopped at Plymouth Rock? (Because they ran out of beer)

At the very first Pilgrim Thanksgiving in 1621 they feasted on deer meat, turkey and what else? Popcorn brought by the Indians

Running speed of wild turkeys? (25 mph)

Turkey meat gobbled up last year by the average American? (18.1 pounds)

The first settlers weren't called Pilgrims. Instead, they referred to themselves as Saints.

They didn't wear big hats with buckles either! That was invented by artists.

The first Thanksgiving was no solemn religious occasion. It was instead a 3-day party that included drinking, gambling and target shooting.

There's no evidence they celebrated Thanksgiving the following year.
Today's Lite Rock All Nite
7:00pm - 12:00am
Today's Lite Rock All Nite
Make A Request