---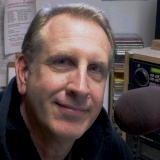 I was born & raised in Marysville, Washington (the other Marysville). I am the son of teacher parents so education was pretty important in my family. I graduated with a B.S. degree in Organizational & Mass Communications from Eastern Washington University (after a lengthy battle over a typing compentency test, which I eventually won). When I got to college I asked someone who had the best parties and they told me to try the Radio & Television Department. So I got a job on the campus station and it turns out the guy was right, I got hooked on radio and the rest is the proverbial history.
I'd like to know what you are up too. Send me an e-mail about your favorite things to do, fun websites you've found, funny stories or gossip you may have heard and things that you and your friends and co-workers are talking about (I can always use the material). Thanks for listening and thanks for stopping by my page. By the way if you have any thoughts about stuff you'd like to see here, send me an e-mail. - Manley
---
Manley's History lesson...
Wednesday January 23, 2015
*National Handwriting Day: 23 Link
*National Pie Day: 23 Link
*Snowplow Mailbox Hockey Day: 23


THIS WEEK IS…

Healthy Weight Week: 19-23 (Third Full Week)
Hunt For Happiness Week: 18-24 (Third Full Week)
National Activity Professionals Week: 18-24
International Snowmobile Safety and Awareness Week: 19-25
National Handwriting Analysis Week: 19-25
No Name Calling Week: 19-23
Sugar Awareness Week: 19-25 (3rd Work Week)
---
Mike's Blog De Jour
It's one of those good news bad news scenarios. My folks are coming down from Washington on their way to Arizona. They always time their visits to coincide with my birthday which is great and I love to have them come and visit, that's the good news. The bad news is they always provide me with all kids of great "material for the show whether they want to or not and I'm afraid to use it because I know they will be listening!
---
Nearly Impossible Quiz:
Thursday January 23, 2015
Q: 57% of people in a new survey say they would never break this rule. What is it?
A: Use the Express line with more than the maximum number of items.
---

and other stuff I thought you'd like to know...
Wednesday January 23, 2015
Not much Hoopla today just mostly "things"
A gallon of gas is now cheaper than sparkling water.
Former Tampa Bay quarterback Brad Johnson says he paid two ball boys $7500 back in Super Bowl 37, to make sure the balls used were under-inflated.
An Egyptian museum says, yes, it's true: a worker broke the beard on King Tut's mask and then just glued it back on.
Jeff Dunham's current wife is suing his former wife, after the former registered all the new wife's possible website names (AudreyDunham.com, .biz, etc.).
Microsoft announced that Windows 10 will be a free upgrade when it comes out to all Windows 7 and Windows 8 current users. They'll have a year to upgrade for free.
For those tired of being asked, "Do you have someone yet?" there's a new app that will text you and make it seem like you have someone. The pretend boyfriend or girlfriend service will cost you $25 a month.
The building that housed the world's first Taco Bell in California is facing being torn down. They're probably making room for another Starbucks!
---
In Case You Missed It...
A HAPPY, HEALTHY VALENTINES
This Valentine's Day score extra points and bonus antioxidants: Pairing strawberries with chocolate boosts the nutritional value of both. In a Brigham Young University study berries dunked in dark chocolate boasted an antioxidant content that exceeded the sum of antioxidants from the individual ingredients. The researchers say certain antioxidants react synergistically with each other, creating additional disease fighting power. But be sure to seek out high-cacao chocolate: strawberries dipped in 54 percent cacao dark chocolate failed to produce the effect. (Men's Health)