---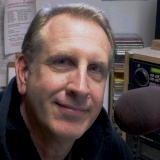 I was born & raised in Marysville, Washington (the other Marysville). I am the son of teacher parents so education was pretty important in my family. I graduated with a B.S. degree in Organizational & Mass Communications from Eastern Washington University (after a lengthy battle over a typing compentency test, which I eventually won). When I got to college I asked someone who had the best parties and they told me to try the Radio & Television Department. So I got a job on the campus station and it turns out the guy was right, I got hooked on radio and the rest is the proverbial history.
I'd like to know what you are up too. Send me an e-mail about your favorite things to do, fun websites you've found, funny stories or gossip you may have heard and things that you and your friends and co-workers are talking about (I can always use the material). Thanks for listening and thanks for stopping by my page. By the way if you have any thoughts about stuff you'd like to see here, send me an e-mail. - Manley
---
Manley's History lesson...
Tuesday May 24, 2016:
*Brother's Day: 24
*International Tiara Day: 24
*Morse Code Day: 24 (Some also observe on April 27)
The island of Manhattan was purchased from the Indians for $24 in trinkets in 1626. Today, a small one-bedroom studio apartment on the island costs over 2000 trinkets a month.
On this date in 1899, the very first Auto Repair Shop opened in Cleveland. It made repairs a bit challenging because the guy who owned the only car was in New York.
On this date in 1935, a Major League baseball game was played at night for the very first time in Cincinnati. Unfortunately no one saw it because they forgot the lights!
THIS WEEK IS…

National Safe Boating Week: 21-27
Hurricane Preparedness Week: 22-28
Healthy and Safe Swimming Week: 23-29
National Backyard Games Week: 23-30

---
Mike's Blog Du Jour
It's National Backyard Games Week this week and one of the most memorable backyards games I ever played was "Lawn Darts." These have since been outlawed because some idiots didn't read the rules and apparently thought that someone was supposed to stand at the other end and attempt to catch the darts! That's the problem with just about every fun thing that has ever been invented, somebody has to ruin it for everybody else because they were stupid! I think it's all part of larger Darwinian plan to thin the herd of the weaker, dumber animals! And let's face it, the herd definitely needs some thinning!
---
Nearly Impossible Quiz:
Tuesday May 24, 2016
Q: These are now the most stolen item in America. What are they?
A: Jeans.
---

and other stuff I thought you'd like to know...
For May 24, 2016:
Other stuff:
Sacramento student Tanishq Abraham is so smart, he's heading off to college, at the University of California/Davis... at the age of 12.
The National Parks Service is so desperate for cash that they just announced that, for the first time, they are going to solicit corporate sponsorship.
---
In Case You Missed It...
DID YOU KNOW?...
Even if you never post your political views on Facebook, avoid ever saying anything about your religious beliefs or even hint about your sexual orientation, that information is easily available based on the "like" buttons you click. Marketers, credit agencies, corporations, potential employers, politicians or the government can discern accurate details about your personality, politics, religion, gender, intelligence, race and sexual orientation by the lasting fingerprint you leave when you click "like" to indicate your approval of everything from a new restaurant to a favorite musician. That's the conclusion of a study conducted by researchers at the University of Cambridge in the England. The results: Based only on Facebook "likes," the Cambridge mathematical model predicted the following, reports HealthDay News:
Today's Lite Rock All Nite
12:00am - 5:30am
Today's Lite Rock All Nite
Make A Request
TEXT CLUB CONTESTS, EVENTS