---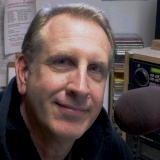 I was born & raised in Marysville, Washington (the other Marysville). I am the son of teacher parents so education was pretty important in my family. I graduated with a B.S. degree in Organizational & Mass Communications from Eastern Washington University (after a lengthy battle over a typing compentency test, which I eventually won). When I got to college I asked someone who had the best parties and they told me to try the Radio & Television Department. So I got a job on the campus station and it turns out the guy was right, I got hooked on radio and the rest is the proverbial history.
I'd like to know what you are up too. Send me an e-mail about your favorite things to do, fun websites you've found, funny stories or gossip you may have heard and things that you and your friends and co-workers are talking about (I can always use the material). Thanks for listening and thanks for stopping by my page. By the way if you have any thoughts about stuff you'd like to see here, send me an e-mail. - Manley
---
Manley's History lesson...
Tuesday August 23, 2016:
*Knife Day: 24
*Pluto Demoted Day: 24
*Vesuvius Day: 24
*National Waffle Iron Day: 24
*Strange Music Day: 24
In 1775, England's King George publicly labeled the American colonists "rebels." After a week, the colonists grew tired of the labels and simply removed them.
The Waffle Iron is patented way back in 1869, invented by Cornelius Swarthout of Troy, New York -- Finally, we could enjoy waffles without wrinkles.
THIS WEEK IS…

*Minority Enterprise Development Week: 18-24
*National Safe at Home Week: 22-25


---
Mike's Blog Du Jour
Today we were talking about fantasies and I am currently experimenting with this concept and using these fantasies as a coping mechanism. Here's how it works; instead of looking at myself in the mirror and realizing that I have really let myself go and get fat, I simply "fantasize" that I am an actor who is playing the role of a fat guy in a really bad TV show.
---
Nearly Impossible Quiz:
Wednesday August 24, 2016
Q: In a survey, 62% of people would be unwilling to do this if their partner asked them to. What is it?
A: Become a Vegetarian.
---

and other stuff I thought you'd like to know...
For August 24, 2016:
Matt Roberts, the former guitarist for the band 3 Doors Down, was found dead Saturday at the age of 38. At this point, cause unknown.
Other stuff:
KFC gave away 3,000 bottles of sunscreen on Monday, to promote their extra-crispy chicken. It was labeled "Extra Crispy Sunscreen" and was supposed to smell like cooked chicken. They were gone in 2 hours.
In Albuquerque, New Mexico, an assistant-principal asked all the teachers at an elementary school to stop using the term, "boys and girls." It's because of a "Gender Identity Procedural Directive" to try and eliminate gender in their classrooms.
---
In Case You Missed It...
DID YOU KNOW?... some random facts about people and stuff:
A study found that you spend 377 hours a year preparing meals by making breakfast, lunch, dinner and snacks.
20% of women in a recent survey said if they're being honest, they will admit, they have prayed before stepping on a scale.
According to a Good Housekeeping survey, 59% of people say they still have a VCR in their house.
Today's Lite Rock All Nite
12:00am - 5:30am
Today's Lite Rock All Nite
Make A Request
TEXT CLUB CONTESTS, EVENTS