---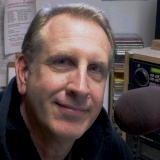 I was born & raised in Marysville, Washington (the other Marysville). I am the son of teacher parents so education was pretty important in my family. I graduated with a B.S. degree in Organizational & Mass Communications from Eastern Washington University (after a lengthy battle over a typing compentency test, which I eventually won). When I got to college I asked someone who had the best parties and they told me to try the Radio & Television Department. So I got a job on the campus station and it turns out the guy was right, I got hooked on radio and the rest is the proverbial history.
I'd like to know what you are up too. Send me an e-mail about your favorite things to do, fun websites you've found, funny stories or gossip you may have heard and things that you and your friends and co-workers are talking about (I can always use the material). Thanks for listening and thanks for stopping by my page. By the way if you have any thoughts about stuff you'd like to see here, send me an e-mail. - Manley
---
Manley's History lesson...
Friday July 31, 2015
*National Talk in An Elevator Day: 31
*System Administrator Appreciation Day: 31
*Uncommon Instruments Awareness Day: 31
*World Ranger Day: 31
This week is...
AFRMA Fancy Rat & Mouse Week: 26-8/1
---
Mike's Blog Du Jour
I have to admit that I am a bit more than slightly embarrassed about something. I didn't realize until just moments before I began writing this blog that the name of the blog was misspelled the whole time! I thought that I had looked up how to spell Du Jour, but apparently I hadn't thinking that I knew best. I should know by now that I do not know best in so many areas and spelling is just one of them. Now that it is spelled correctly the caliber of the blogs I'm sure, will improve dramatically.
---
Nearly Impossible Quiz:
Friday July 31, 2015
Q: A survey says that 54% of people do this year round. What is it?
A: Christmas shopping
---

and other stuff I thought you'd like to know...

Friday July 31, 2015:
Today is baseball's trading deadline. Expect a few last-minute deals. There's a lot of shopping around going on.

First we hear Blake and Miranda were even going to continue touring together. Next, we hear Blake turned down a trial separation and couples counseling. Next thing you know, published pictures of Lambert's belongings on the porch of Shelton's ranch outside Tishomingo, Oklahoma.

1 in 3 young adults between the ages of 18-34 -- 20.4 million of them -- are still living at home with their parents.

Zayn Malik has officially signed with RCA Records and is working on his first solo album. He says he's looking forward to making "real music."

A movie based on the BBC comedy "Absolutely Fabulous" will begin filming in October.

Due to falling oil prices, Shell Oil is going to cut 6500 jobs over the next couple of years.

Angry Birds 2 came out yesterday.

Kylie Jenner is going to Canada for her 18th birthday so she says she can get "legally wasted."

Tom Cruise says yes, a "Mission Impossible 6" is in the works.

An author claiming that Kurt Cobain was actually murdered goes to court to get classified photos of the singer's death released. Courtney Love and their daughter Frances Bean are fighting their release.

Christine Ouzounian. She's the nanny that allegedly caused the breakup of Ben Affleck and Jennifer Garner. One of her friends told People magazine that the fling had been going on for a long time.

With the death of a White Rhino last week, there are now only four left in the world.
---
In Case You Missed It...
It was bound to happen at some point. We have enjoyed the cranky comments and snarky remarks of "Grumpy Cat" for some time, but now the dogs get their say. Here's Earl the "Grumpy Pup"
Looks like this little fella is having a bad day!
Today's Lite Rock All Nite
7:00pm - 12:00am
Today's Lite Rock All Nite
Make A Request